Extend the Beauty of 4K over the Network
4K provides four times the resolution of 1080p full HD for breathtaking detail and image quality. Our N2400 4K60 4:4:4 and N2300 4K30 4:2:0 encoders and decoders support streaming video resolutions up to 4096x2160 and support HDCP 2.2; all with latency so low it supports extremely sensitive applications like live action events and interactive presentations using a keyboard and mouse.
Feature-Rich. Enterprise Grade. Secure.
Features like AES67 digital audio support, Power-over-Ethernet, KVM support, the ability to easily adjust bandwidth and resolution to precisely meet the needs of the application, LocalPlay content, a networked-attached windowing processor, networked video recorder, 802.1x authentication, Active Directory support, SSL/TLS encryption, and more makes it clear that our products are designed with the enterprise network in mind.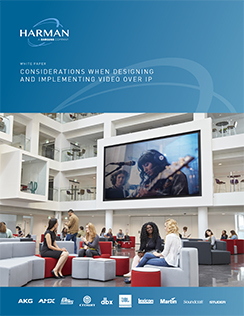 Designing & Implementing Video over IP
Download the white paper that empowers designers with the right considerations for planning an ultra impactful networked AV installation.
From the Paper: "The biggest variable when it comes to working on the network is not the device. It's the network. Every network is different, and every IT manager has a unique posture that is reflected in the way their network is designed and the requirements they put in place. As such, not every networked AV device and setting will fit perfectly for every..."
Topics Include:
Must be designed for the enterprise network
Real truth about latency
Leverage the potential of video on the network
And much more