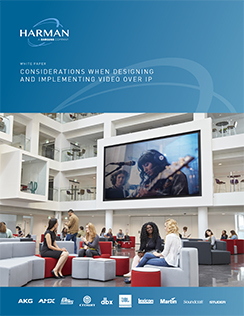 Designing & Implementing Video over IP
Download the white paper that empowers designers with the right considerations for planning an ultra impactful networked AV installation.
From the Paper: "The biggest variable when it comes to working on the network is not the device. It's the network. Every network is different, and every IT manager has a unique posture that is reflected in the way their network is designed and the requirements they put in place. As such, not every networked AV device and setting will fit perfectly for every..."
Topics Include:
Must be designed for the enterprise network
Real truth about latency
Leverage the potential of video on the network
And much more